Goalie handling puck in net. First off this:
Before hand I would like to state that I am not a goalie. These are just areas that I have noticed and can see a potential improvement in.
Goalie is hard to play? Okay, compensate by having more
realism = gameplay
. These changes could even make goalie a more viable position to play. More goalies = more competition = better goalies = better ZHL = flourishing community and so on... I have seen complaints of there being a lack of goalies to choose from as opposed to a boatload of skaters
Firstly make one or more of these changes: Make the net just slightly smaller/goalie grab radius slightly bigger/goalie steal radius slightly bigger/goalie still when boosting slightly bigger/force-field slightly bigger. Cooldowns can be adjusted if necessary.
Secondly, make the crease slightly bigger. Dunks can be avoided. Dunks will become in issue because the goalie would have to position his stick behind the line and even if he caught them they would be a goal. This is the image of a crease in real hockey: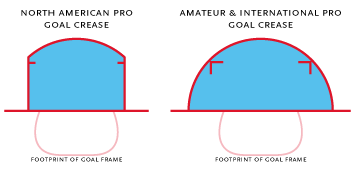 If not, at least make the crease touch the posts:
Third, remove the bounce-off-of-the-crease when a zealot enters the region. Instead it should slow or stop the zealot on the edge. Zealots bouncing off of an imaginary line isn't realistic and is in fact frustrating when playing defense or offense. This change would make a zealot defense more viable especially when the goalie is pulled. A bigger crease as suggested in my second point would prevent players using this for a faster "bitch defense" as the increase in circumference would be harder to cover by standing zealots.
Fourth, I noticed that when clicking behind or to the sides of the net whilst being inside the crease/net the goalie does not face the direction he is heading in and instead moves awkwardly (not facing direction of travel). Clicking outside net to have your immortal's stick not fully turn could make or break the game. Very easy fix in data editor.
Fifth, (not really related) zealots and pucks respond weirdly when hitting sides of the net and do not act in the same way they do if they were to hit the boards (sides of the "rink"). Fix this and it could potentially improve goalie mobility when leaving the crease to chase the puck down, also it would be a physics fix. It's almost as if the sides of the net seem to be made of sponge. P.S. Slight reduction in original momentum should be the same when the puck hits one-timers, boards, net, posts due to the change of kinetic energy into heat, sound, light etc.